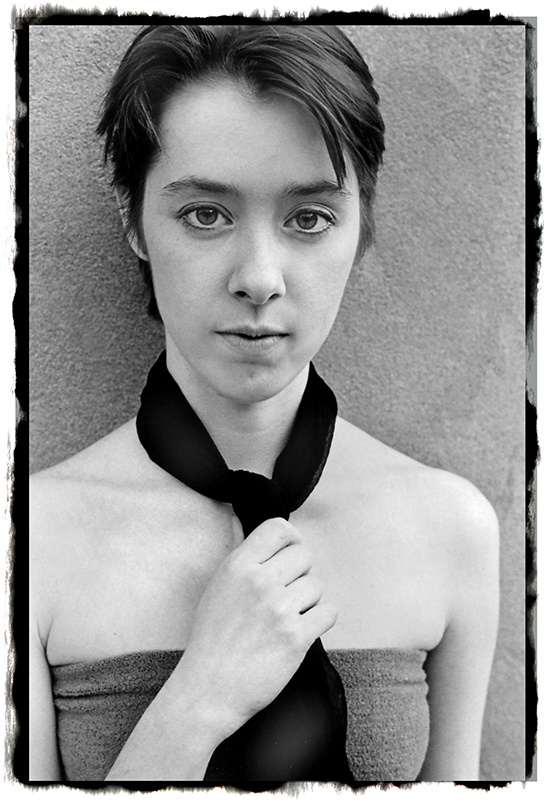 I am going to have to call it an illusion that it has been over three decades since taking these photos of Suzanne Vega.
I have to call it an illusion because, even though she has whizzed around the world creating a brilliant career, and
I, myself, have been around a block or two, it seems like only a few clicks of a shutter, and—half the roll is shot. (if you don't get the metaphor, you are nowhere near the halfway mark).

I am honored to hold a few beautiful images from Suzanne's history, capturing a bridge between her early genius and emerging sophistication. A few short years after this shoot, her life exploded into stardom. It was an expectation, not a surprise, for most of us in the NYC Village music scene.

Why would we be surprised? Suzanne was a masterful storyteller, poet, songwriter, and musician, who was quietly determined to artfully bridge her acoustic sound with the sound of rock. When someone writes as well as Suzanne Vega, the secret art behind the obvious art is the rare skill of truly paying attention. So, I have always considered Suzanne a bit of a photojournalist—a photographer without a camera. Her book, subtitled The Collected Writings of Suzanne Vega, is aptly titled The Passionate Eye. In the book, she even gives a descriptive account of a photo shoot that was for an article about women musicians.

Perhaps it's partly the Buddhist influence that has contributed to her deep mindfulness or perhaps it's her knowledge of how best to spend off hours—gathering ingredients and feeding the imagination—getting poised to deliver the musical potion. I can only say that Suzanne Vega, armed with an acoustic guitar as her magic wand— and a healthy supply of hypnotic material and honest charm, has put spell on millions of us. Check out her 2014 CD release, Tales From the Realm of the Queen of Pentacles. Unsurprisingly, wondrous.

The song I requested for Glass Half Full is called Gypsy. I felt the chorus was perfect for anyone going through the heat of any life challenge.

Oh, hold me like a baby
That will not fall asleep
Curl me up inside you
And let me hear you through the heat, oh
Suzanne has worked with a number of charities, including Casa Alianza (helping street children in 4 Latin American countries), and with Amnesty International. Thank you, Suzanne, for donating your royalty on Glass Half Full to the Breast Cancer Fund! —Irene Young

photo1980 © Irene Young
"Widely regarded as one of the most brilliant songwriters of her generation," (Biography Magazine) Suzanne Vega emerged as a leading figure of the folk-music revival of the early 1980s when, accompanying herself on acoustic guitar, she sang what has been labeled contemporary folk or neo-folk songs of her own creation in Greenwich Village clubs. Since the release of her self-titled, critically acclaimed 1985 debut album, she has given sold-out concerts in many of the world's best-known halls. In performances devoid of outward drama that nevertheless convey deep emotion, Vega sings in a distinctive, clear vibrato-less voice that has been described as "a cool, dry sandpaper- brushed near-whisper" and as "plaintive but disarmingly powerful."
Bearing the stamp of a masterful storyteller who "observed the world with a clinically poetic eye," Suzanne's songs have always tended to focus on city life, ordinary people and real world subjects. Notably succinct and understated, often cerebral but also streetwise, her lyrics invite multiple interpretations. In short, Suzanne Vega's work is immediately recognizable, as utterly distinct and thoughtful, and as creative and musical now, as it was when her voice was first heard on the radio over 20 years ago.
Two of Vega's songs (both from her second album Solitude Standing, 1987) reached the top 10 of various international chart listings: "Luka" and "Tom's Diner". The latter was originally an a cappella version on Vega's album, which was then remade in 1990 as a dance track produced by the British dance production team DNA.
Vega has released eight studio albums to date, the latest of which is Tales from the Realm of the Queen of Pentacles which was released in 2014.
Suzanne was born in Santa Monica, CA, but grew up in Spanish Harlem and the Upper West Side of New York City. She was influenced by her mother, a computer systems analyst and her stepfather, the Puerto Rican writer Egardo Vega Yunque. There was a heady mix of multicultural music playing at home: Motown, bossa nova, jazz and folk. At age 11 she picked up a guitar and as a teenager she started to write songs.
Suzanne studied dance at the High School for the Performing Arts and later attended Barnard College where she majored in English Literature. It was in 1979 when Suzanne attended a concert by Lou Reed and began to find her true artistic voice and distinctive vision for contemporary folk. Receptionist by day, Suzanne was hanging out at the Greenwich Village Songwriter's Exchange by night. Soon she was playing iconic venues like The Bottom Line and Folk City. The word was out and audiences were catching on.
Suzanne's neo-folk style has ushered in a new female, acoustic, folk-pop singer-songwriter movement that would include the likes of Tracy Chapman, Shawn Colvin, and Indigo Girls. In 1997, Suzanne joined Sarah McLachlan on her Lilith Fair tour which celebrated the female voice in rock and pop. She was one of the few artists invited back every year. Suzanne was also the host of the public radio series "American Mavericks," thirteen hour-long programs featuring the histories and the music of the iconoclastic, contemporary classical composers who revolutionized the possibilities of new music. The show won the Peabody Award for Excellence in Broadcasting.
She has dedicated much of her time and energy to charitable causes, notably Amnesty International, Casa Alianza, and the Save Darfur Coalition. Suzanne has a daughter, Ruby, by first husband Mitchell Froom. Ruby, like Suzanne before her, attends the High School for the Performing Arts. Suzanne is married to lawyer/poet Paul Mills who proposed to her originally in 1983. Suzanne accepted his proposal on Christmas Day 2005, twenty two years later. As fascinating as the New Yorkers she has been inspired by, Suzanne Vega herself is full of stories and surprises: the everyday revelations, the grabbed-on-the-run wisdom, the strange, random, miraculous stuff that make up a singular career – or maybe just another life in the big city.