Patty Larkin, 1993, Meadowsweet Dairy Studio, Corte Madera, CA, Marin County, ©Irene Young

I may not know Patty Larkin as well as I might like, but my impression from working with her twice, and loving her music, is that she is the living, breathing personification of creativity. Some people play at being creative. Patty Larkin is the real deal. She is one with the very essence of divine inspiration, and I would wager a bet that she would feel out of sorts if she went too long without writing a song. But with 13 CDs to her credit, and the fact that she had 40 songs from which to choose for her latest CD, Still Green, it's not likely she ever feels out of sorts from lack of spark.

Patty Larkin, 1993, Corte Madera, CA, Marin County studio, ©Irene Young

She has the mark of a renaissance woman in everything she gifts her listeners. One gets the sense that she has a painter's eye, and her stroke is on every piece of artwork, from the details of her CD packaging to her website. If you are not well familiar with the songwriter, the guitarist, the spirit of Patty Larkin, do yourself a favor, and buy Because of This, the last cut on Still Green. Or just buy the whole CD, since you will end up buying it anyway. You may become a fan, but more likely you will admire Larkin the way one might admire Edna St. Vincent Millay, Georgia O'Keefe, or Martha Graham—with wonder and respect for their dedication to and perfection of their craft.
—Irene Young

Patty Larkin, 1993, Corte Madera, CA, Marin County studio, ©Irene Young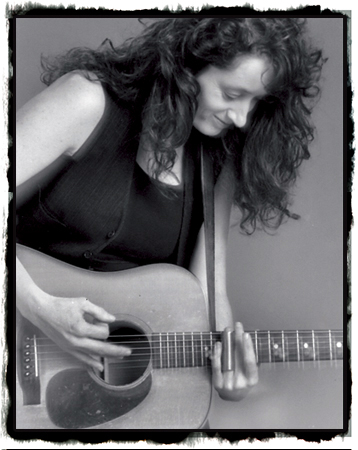 PATTY LARKIN redefines the boundaries of folk-urban pop music with her inventive guitar wizardry and uncompromising vocals and lyrics. Acoustic Guitar hails her "soundscape experiments" while Rolling Stone praises her "evocative and sonic shading." She has been described as "riveting" (Chicago Tribune), "hypnotic" (Entertainment Weekly) and a "drop-dead brilliant" performer (Performing Songwriter).
Patty Larkin grew up in a musical and artistic family in Milwaukee, Wisconsin. Descended from a long line of Irish American singers and taletellers, her mother was a painter, her sisters both musicians. She learned at a young age to appreciate the beauty of the arts. She began classical piano studies at age 7, and became swept up in the sounds of pop and folk in the 60s, teaching herself the guitar and experimenting with songwriting in high school. An English major, Larkin sang throughout her high school and college career, starting out in coffeehouses in Oregon and San Francisco. Upon graduation from the University of Oregon, she moved to Boston and devoted herself to music, busking on the streets of Cambridge and studying jazz guitar at Berklee College of Music and with Boston area jazz guitarists.  —from Patty's website
AWARDS
Patty is the recipient of an Honorary Doctorate of Music from Berklee College of Music, where she is now an Artist in Residence. Patty has earned eleven Boston Music Awards and has been honored by Boston's Mayor Thomas Menino with "Patty Larkin Appreciation Day" in recognition of her philanthropic contributions to non-profit organizations.
FILMS · TELEVISION · COVERS
Evolution (Film/Dreamworks) "Regrooving the Dream"
Random Hearts (Film/Columbia Pictures) "Good Thing"
Sliding Doors (Film/Miramax) "Coming Up For Air"
"Tenderness on the Block"
Grand Champion (Blue Sky Media) "Might As Well Dance"
Men in Trees (TV) "Wolf At The Door"
Homicide (TV) "Open Arms"
Cher (Music) "Good Thing"
Holly Cole (Music) "I Told Him That My Dog Wouldn't Run"