photo © Irene Young
Mary Black is indeed a real Irish treasure and her talent a gift from this small Ireland to a grateful world. —Jackie Hayden, Hot Press

I feel as though Mary and I were destined to know each other.  Her agent at the time of our meeting, AnnMarie Martins, hooked us up to do a photo shoot when she was performing in the San Francisco Bay Area. I was thrilled because I had loved her music  from the first moment I had heard her sing,  and had always called her The monarch of music from Ireland. Interestingly, I later became very close friends with Bill Straw and Lois Gerard of Blix Street/Gift Horse Records (Mary Black, Eva Cassidy, Grace Griffith). They were the record company that first brought Mary's music to the U.S.  So, I figure if I hadn't gotten the pleasure of meeting Mary through AnnMarie, I  would have eventually met her through Bill and Lois since we love going to her concerts together.

Mary is a star, a gem, and a beautiful human being. One of the most striking things about her is that she genuinely asks and cares how you are doing. She's a beautiful and very gracious performer. Getting to know her a wee bit, and having the opportunity to photograph her, has been one of the highlights of my career. I do hope the miles between us don't prevent the pleasure of another session. Do check out all her landmark CDs.

On Glass Half Full, Mary sings By The Time It Gets Dark, written by the legendary, late Sandy Denny. I requested this song because one day, when I was not feeling well, I reached for any CD and I won the lottery with this song. Mary, with her alchemical voice, was my healer for the day.  
—Irene Young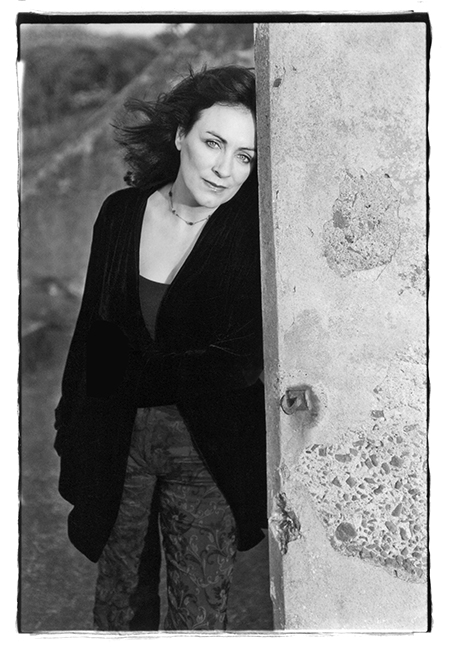 For the last quarter-century, singer MARY BLACK has been a dominant presence in Irish music, both at home and abroad. She has shared stages, TV shows and recording studios with some of the most revered performers of her time. She has also played a frontline role in bringing Irish music, past and present, to an increasingly appreciative and ever-growing global audience.
To the acclaim and awards Mary has received over the years from both the public and the critics must also be added the esteem she has generated from her fellow artists. Indeed, many of them have recorded and performed live with her, including Janis Ian, Emmylou Harris, Mary Chapin Carpenter, Joan Baez and Van Morrison, not to mention a host of Irish traditional musicians and singers. Along the way she has also recorded and performed with her siblings in The Black Family and with her highly successful sister Frances.
In an industry noted for its fickleness and its almost insatiable need for fresh novelties, Mary Black's enduring successes have proven that her depth of talent and her love of singing transcend the generations, as well as national and musical boundaries too.