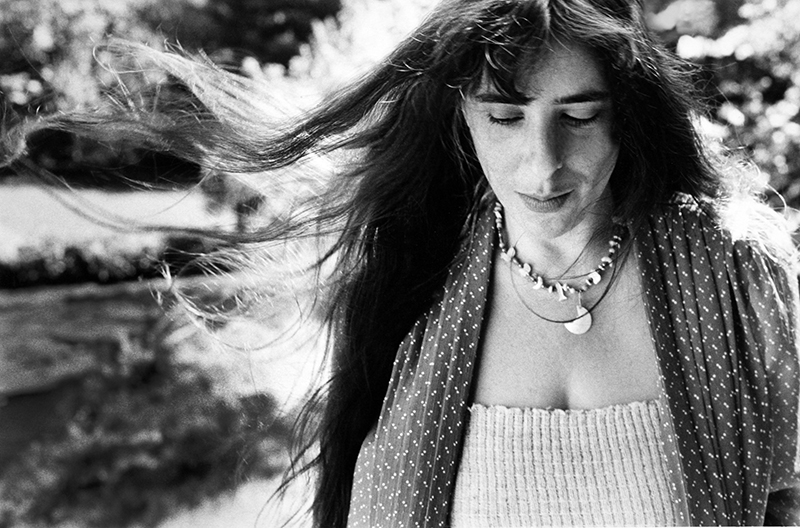 The soul, the passion, just the out-and-out audacity of the way her rhythmic and melodic changes came was like nothing I'd heard before. —Elton John
Laura Nyro virtually invented a ripped-from-the-soul, stream-of-conscious streetwise style that has inspired countless songwriters, from Rickie Lee Jones to Suzanne Vega to Tori Amos.
—Stephen Holden, NY Times
My train pulled into Danbury, CT, and much to my surprise, Laura Nryo hadn't sent anyone to pick me up. She, alone, was standing there waiting for me. I could feel her calm presence during our brief, gentle, nice-to-meet-you hug. Whatever conversation we had during the short ride to her house, I am sure was soft-spoken. I wasn't feeling well, so before starting the photo session, I asked if I could lie down, put on a head-set, and listen to the music. She obliged, and with every track, I could feel my body taking in the healing. By the end, I was ready to grab my camera, and get to work—if "work" is what one could call photographing an Angel.

There are three things I remember most about my time with Laura Nyro: her gliding across a room—rather than walking; being privy to hearing her sing her son to sleep; and witnessing her moon bathe in the middle of the night. What a privilege, an honor, a joy. 

After the initial 2 days I spent with her, I came back to review the work we had done. I treasure that she loved the photographs we created together. When I would attempt to narrow down the number of images she loved, she would say in a soft whisper, "Irene, (pause, breath), I'm just not ready to let go of that one yet." Still to this day, my response to her passing is, "Laura, (pause, breath) none of us were ready to let go of you yet." —Irene Young

Photo © Irene Young

Photo © Irene Young
Laura Nyro was born on October 18, 1947 in the Bronx, New York. Nyro began singing as a teenager, in New York subways and streets. She would eventually receive a record contract and record . After a brief retirement, she returned to recording before her early death from ovarian cancer in 1997.
Nyro showed an early interest in music and started composing songs at the age of 8. She attended the High School of Music and Art in New York at the same time as fellow singer-songwriter Janis Ian.
At age 17, she wrote the song "And When I Die," which she sold to the famous folk group Peter, Paul and Mary for $5,000. In 1966, she won a record contract of her own after auditioning before record company executive Artie Mogull, who had earlier signed Bob Dylan to his first major-label contract. Having long experimented with various stage names, she released her 1967 debut album, More Than a New Discovery, under the name Laura Nyro, which stuck as her professional name. That same year, she performed at the famous Monterey Pop Festival.
After her performance at Monterey, record producer David Geffen signed Nyro to a $4 million contract with Columbia Records. This gave her more creative control over her next albums, including the two widely regarded as her best, 1968's Eli and the Thirteenth Confession and 1969's New York Tendaberry. The Columbia contract also allowed for Nyro's songs to be covered by others.
"As a recording artist, Ms. Nyro never had a gold album or a hit single, but many of her songs were hits for others. And her albums, especially her 1968 song suite "Eli and the Thirteenth Confession" (Columbia), a sometimes impenetrable mosaic of fragments, reflections and fantasies with a Southern gospel feel, was one of the most influential pop recordings of the late 1960's.  Among the many artists inspired by Ms. Nyro's eclecticism and poetic sensibility were Rickie Lee Jones, Kate Bush, Wendy Waldman, Jane Siberry, Teena Marie, Suzanne Vega, Toni Childs, Tori Amos and Paula Cole.
Among Ms. Nyro's biggest hits for others were the songs "And When I Die" (recorded by Peter, Paul and Mary and Blood, Sweat and Tears), "Wedding Bell Blues" (the Fifth Dimension), "Sweet Blindness" (the Fifth Dimension), "Stoned Soul Picnic" (the Fifth Dimension), "Eli's Coming" (Three Dog Night) and "Stoney End" (Barbra Streisand)."  —Stephen Holden, New York Times, April 10, 1997
The following is from Laura's website in the words of her friend, Patty Di Lauria— "If Laura's life were to be represented in a painting, it would have to be a mural, one shared by artists such as Chagall (the lightness and flow of her), Picasso or Braque (the fractured struggles she endured in the world of the music industry), Gauguin (for her luscious sensuality), Rousseau ( for her awareness of the mystery of creation itself), and Picasso, once again, (for the fury and anger she felt at social injustice and abuse.
Her music, her songs, are a complete representation of Laura. She held nothing back in her art. She said later in life that, songwriting was for her, "like flying". "In songwriting I know no limitations." Imagine that concept. The very private Laura Nyro bared her heart and soul through her work, and offered it and herself to the world through music. That is why when questions have been asked, I suggest listening, really listening, to Laura's work. The answers lie there and nowhere else." —Patty Di Lauria (from Laura's website)