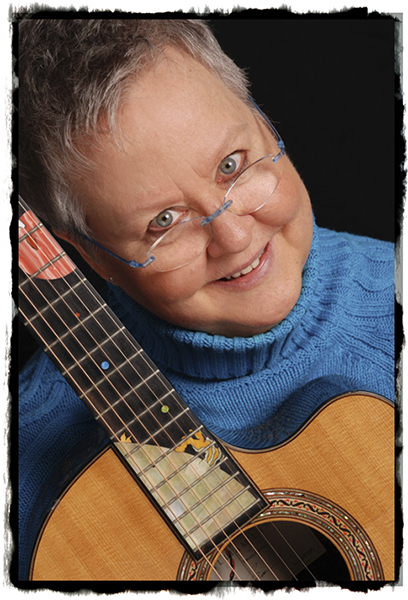 Christine Lavin…unsung heroine of the latter-day folk movement.
—Janis Ian
"Compilation Queen", Christine Lavin, is the folk music champion of camaraderie. She has produced nine projects that generously sing the praises of other musicians. I know of no other artist who promotes the competition more than Christine Lavin. However, since Christine Lavin is one of a kind, she doesn't have to worry about competition. She has recorded over 20 solo projects and they are loaded with gems— funny, poignant, topically clever, simply beautiful, or as satirically brilliant as Stewart, Mahr, and Colbert. Her live performances are one-woman works of art rather than concerts. A musical evening with Christine Lavin is not your sit-back-and-relax-type-of-concert. The whole room, engaged in unison, is totally entertained from opening number to encore by one woman, her guitar, and her ingenious mind. I am so fortunate to have photographed this amazing, creative woman numerous times. Her contribution to Glass Half Full is her version of Donavan's round, Happiness Runs. This seemingly simple song, to me, holds a powerful secret to life (everybody is a part of everything). Thank you, Christine Lavin and Donovan Leitch, for sharing your positive spirit with all of us.
—Irene Young

Photo by Irene Young
CHRISTINE LAVIN is a singer/songwriter/guitarist/recording artist living in New York City. She has recorded 20 solo albums [latest: Cold Pizza For Breakfast on Yellow Tail Records]. She has also produced nine compilation CDs showcasing the work of dozens of songwriters whose work she loves — one of them, the food-themed One Meat Ball, includes a 96-page cookbook that Christine edited. For four years she hosted "Slipped Disks" on XM satellite radio, playing CDs slipped to her backstage by compatriots, and is the occasional guest host for the City Folk Sunday Breakfast Show on WFUV-FM at Fordham University. She also writes freelance for various publications (including The Washington Post, Huffington Post, The St. Petersburg Times, The Performing Songwriter, and Delta "Sky" Magazine). Her song "Amoeba Hop" was turned into a science/music book by illustrator Betsy Franco Feeney (Puddle Jump Press), received the stamp of approval from The International Society of Protistologists, and a "Best Book Award" from the American Association for The Advancement of Science.
Betsy and Christine have collaborated again on HOLE IN THE BOTTOM OF THE SEA, a children's book with CD that tells the story of an oil spill with an emphasis on clean, alternative energy. More than 50 singers from around the world are included on the CD. The book will be released on March 14, 2012.
The book THE PLUTO FILES: THE RISE AND FALL OF AMERICA'S FAVORITE PLANET, written by Neil deGrasse Tyson, head of the Hayden Planetarium in NYC, includes the complete lyrics to Christine's song "Planet X," which details Pluto's history and planetary status debate in rhyme. The book is published by W.W. Norton.
Her book, COLD PIZZA FOR BREAKFAST: A MEM-WHA?? is available in paperback, kindle, iPad, and audio book formats. Just One Angel, her latest compilation project, (22 artists, 22 Christmas/Hanukah/Solstice/New Year's songs) became a four-artist west coast tour in December 2011.
AWARDS: Christine received a 2012 NYC Nightlife Award given annually to the best concert and cabaret performers. In November 2011 her book COLD PIZZA FOR BREAKFAST: A MEM-WHA?? won the 43rd Annual ASCAP Deems Taylor Award for excellence in non-fiction writing about pop music. Christine has also won five ASCAP composer awards, the Backstage Bistro Award for Best NYC Singer/Songwriter Of The Year, The Kate Wolf Memorial Award, and her album Good Thing He Can't Read My Mind won Album Of The Year from the National Association Of Independent Record Distributors.