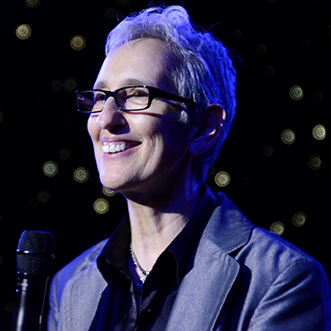 Music photographer, Irene Young  produced "Glass Half Full, Songs of Comfort & Hope, a compilation CD highlighting some of her renowned client's most powerful and healing songs. The inspirational album which features 23 women musicians performing songs with positive messages benefits the national organization, the BREAST CANCER FUND.
According to Young, "When I was diagnosed with breast cancer, many of the extraordinary artists and friends I had worked with over the years asked what they could do to help. The power of their music provided consolation and support during my most challenging of days. I wanted to share that experience with other women for their own healing process, to promote breast cancer awareness, and to champion the cause of independent music. A community of musicians came together to help me and to help others, and I created Glass Half Full during my months of chemotherapy and healing."
The women musicians — all influential in their own genres which range from rock to jazz to folk and even traditional Irish music — donated their royalties for this CD to help the breast cancer cause.
Irene Young, a bi-coastal photographer now based in the San Francisco Bay Area, has created images for more than 600 CD covers. According to Young, "The art of seeing does not start and stop with our eyes. The key to photographing people is to do so with a wide open aperture of the heart, with no judgment,†and with a true belief that everyone is beautiful."
Among many artists and writers she has photographed are Sonia Braga, Lance Henrickson, Sarah Wayne Callies (Prison Break), Euan Morton (Taboo), Vicki Randle (The Jay Leno Show), Shawn Colvin, Suzanne Vega, XTC, Al Jareau, Loudon Wainwright III, The Roches,  Tom Paxton, Liz Story, Turtle Island String Quartet, Patti Larkin, Tom Bodett (NPR); Windham Hill founder, Will Ackerman; the late Michael Hedges, Laura Nyro and blues great Brownie McGee; Judy Collins, Holly Near, and the UK's favorites The Boys of The Lough, Dougie MacLean, and Mary Black; and writers, Susan Griffin, Ann Jones, Geneen Roth, and Shakti Gawain. The list goes on and on.
Her diverse clients include Warner Brothers, Sony/BMG, Columbia, Motown, Windham Hill, Narada, Virgin, Rounder, Red House, and Blix Street Records (Eva Cassidy's label); Harper Collins, Fawcett, CBS, Doubleday, and Henry Holt and Company Publishers; Hewlett Packard, Panasonic, and Paula Dorf Cosmetics.
Irene Young's photographs have appeared many times over in multiple national and international publications, including O The Oprah Magazine, Us, People, The New York Times, The San Francisco Chronicle, The Washington Post, The Washingtonian, The LA Times, Guitar Player, Interview, Bluegrass Unlimited, The Utne Reader, and more.
Young has been a guest lecturer at The San Francisco Art Institute and The School of Visual Arts in NYC. She currently resides in The San Francisco Bay Area, and, although she has spent equal time in New York City and Northern California, her formative years were spent as a southern in Tarpon Springs, Florida and Atlanta, Georgia.
She is currently working on two digital retrospectives.
A Women's Music Tribute:
The Women Who Changed the World with a Song
For The Long Haul: A Portfolio of Musicians Spanning 40 Years